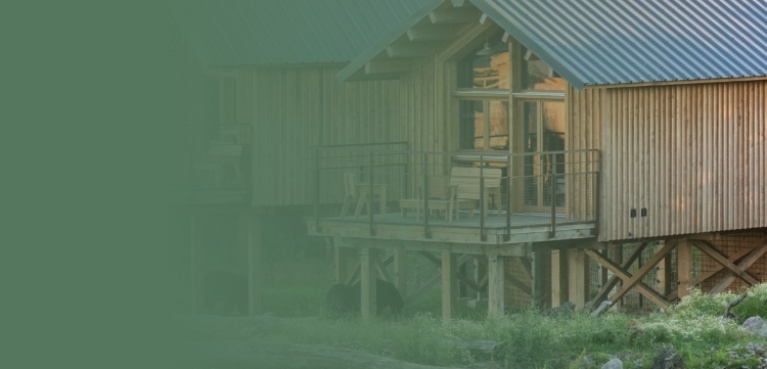 The new world
North America harbours vast expanses of wildlife, great plains, huge forests, and lakes. These landscapes hold a fascination that bridges the gap between the old world of Europe and America, the new world where everything is possible, including living at one with nature.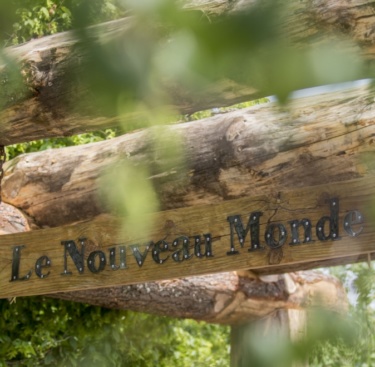 Let's explore the wide-open spaces of North America
The "new world" at Sainte Croix is a new 8.5-hectare enclosure, home to bison, black bears, coyotes, raccoons, wild turkeys, prairie dogs, porcupines and skunks.
Our New World includes a themed restaurant, a large play area and two new types of lodge to sleep close to the animals, plus a reception area for all lodges in the park.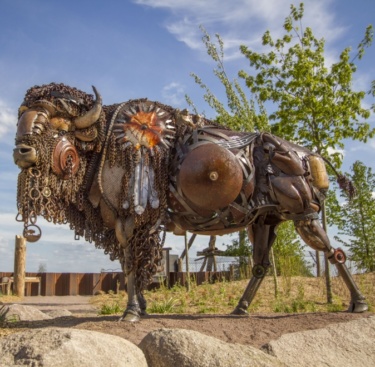 King of the Prairie, by John Lopez
We humans take over wild habitats and exploit them, more or less wisely, sometimes annihilating whole eco-systems in the process. But things can change.
The monumental sculptures of American artist John Lopez show how manmade objects can take on a new lease of life. His bison sculpture for Sainte-Croix is made of reclaimed objects from the American frontier, "Wild West" era. A fitting tribute to the King of the prairie.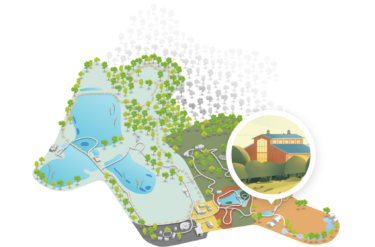 120 hectares of unspoilt countryside
Spanning 120 hectares, the Parc Animalier de Sainte-Croix is home to a selection of European fauna and a contributor to worldwide biodiversity. Explore the five areas of our leafy park where 1,500 animals representing 100 species roam freely.
Looking to do something really different?
Stay with us and be a part of the animal kingdom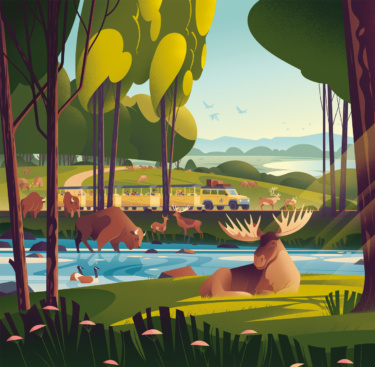 Wildlife expedition in a safari train
Hop on the safari train on an hour-long expedition to observe the animals of Europe. All aboard! This 3-kilometre-long trip takes you to the heart of the park where you will encounter the very best that nature has to offer. The expedition will give you an insider's view of the elk's and reindeer's habitat and the vast nature reserve shared by the Przewalski's horses and European bison.
NATURE ACTIVITIES
Surrounded by wildlife
Stay over with your new friends. Relax in one of our well-appointed eco lodges. You'll have the time of your life !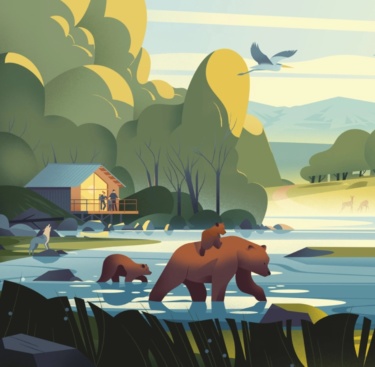 Protecting wildlife and biodiversity
At Sainte-Croix, we are committed to the conservation and protection of the environment.
Environnement

Since we founded the reserve in 1980, Sainte-Croix has been committed to protecting our planet. Our awareness-raising campaigns for staff and visitors have helped establish our role as leaders in nature protection instruction.

Find out more

Conservation

More than 50 animals have been released into their natural habitats since the reserve opened.

Find out more

Reintroduction

Captive-bred animals may be released into the wild to help increase populations of endangered species.

Find out more