Sponsor an animal
Biodiversity is a worthy cause to support. We're sure you spotted a special favourite among the animals at the park! Go ahead, play a role in wildlife conservation, donate to our biodiversity fund and adopt one of our animals.
The funds raised are donated to associations committed to the conservation of species and help to finance the conservation programmes we support.
For one year, you will receive special Sponsor newsletters with news of our godchildren, conservation news from the Park, highlights of our supported charities, "a little word" from our carers, etc.
Please note that our sponsor's kit is in french, email us to have it in english.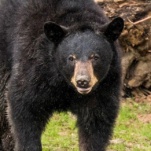 ARTUR
Artur is a young male American black bear, sometimes known as baribal. He has been with us since 2018. He is very inquisitive and likes to test the limits of whatever is around him. His name comes from the Celtic word "Artos" which means "bear" and "warrior".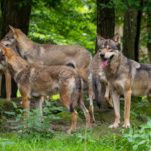 THE PACK OF GREY WOLVES
The pack comprises 13 wolves: 8 males and 5 females. As in all packs, there is a dominant pair. Gump and Holly are the alpha wolves in this pack.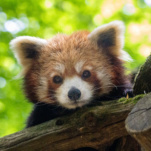 BAO
Bao is a small female red panda born in 2014. Her name means "treasure" in Chinese. She is the most reckless of our red pandas, and always hungry. She loves pears.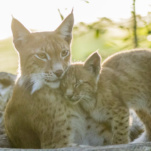 FREYJA
Freyja joined us in 2015. She is named after the Nordic goddess of fertility. She shares her territory with her mate Ruska, her son Nassak, and three lynx kittens born in May 2022.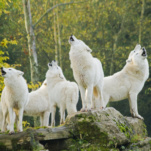 THE PACK OF ARCTIC WOLVES
This wolf is well adapted to the harsh climate in this part of the world. It has thick fur, wide feet and long legs that make it easy to move through the snow
VIDJA
Vidja, the female wolverine has peculiar eating habits. She buries her food to eat later. She doesn't realise her mate Salvo digs it up and eats it when her back is turned.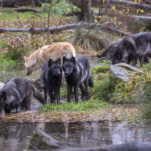 THE BLACK OF BLACK WOLVES
In 2020, 7 Canadian wolves from the Givskud Zoo in Denmark arrived in Sainte-Croix. The Park reinforces its European reference in terms of presentation and pedagogy on this mythical animal.
GRAOULLY
Charismatic individual from Sainte-Croix, Graoully, our brown bear arrived at the park in 1999. True ambassador of his kind, Graoully is the symbol of quiet strength.
How to offer a sponsorship?
Sponsor the animal in your own name on our booking site
On the HelloAsso form or the sponsorship form indicated in the place provided: the name and surname of the sponsor, the mailing address and the email address of the sponsor so that the kit of the sponsor is sent by post and by email (from a delay of 10 days). The buyer's name will be deemed to be the tax deduction. The sponsorship is valid for one year from the DATE OF PURCHASE. The sponsorship is registered, it is only valid for 1 person.