Down on the Farm
A superb conservation area, the farm hosts more than 25 species. Don't miss the chance to play at being a farmer and to learn more about the animals.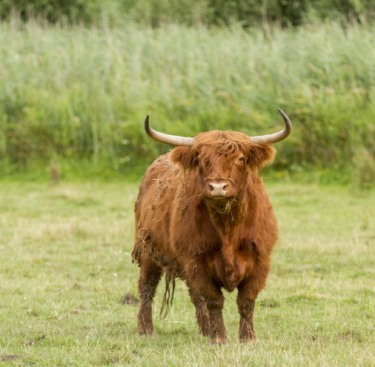 Get to know the rarer farm animals
Before it became a top-notch reserve for European wildlife, Sainte-Croix was farmland. Bordering the three discovery trails that cover the 120 hectares of the park, the teaching farm comprising a pigsty, sheepfold, stables, rabbit hutches, pigeon house and chicken runs stands as a reminder of the park's rural past and a tribute to Gérald Singer, the visionary farmer who founded the nature reserve. The farmyard named after him is no ordinary one. It is centred on ecology, designed to conserve domestic animal species.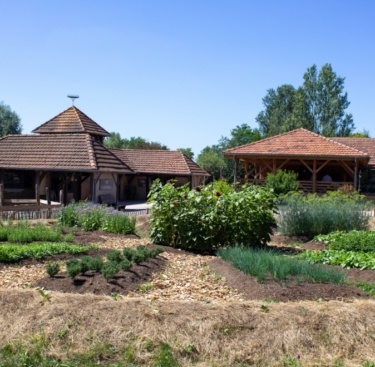 The vegetable garden and the mandala
Animals, and more ! Sainte-Croix is introducing an innovative market gardening project spanning 1600m², growing organic, local produce. The garden will be open to visitors. A new restaurant will serve dishes made with the fresh produce, in true farm-to-fork style. In keeping with our aim to reconnect people with nature, the project includes an awareness-raising campaign centred on the good sense of our rural ancestry.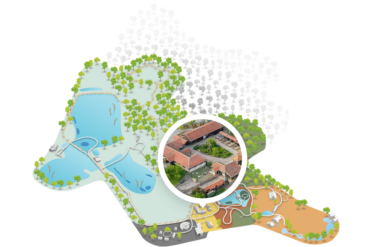 120 hectares of unspoilt countryside
Spanning 120 hectares, the Parc Animalier de Sainte-Croix is home to a selection of European fauna and a contributor to worldwide biodiversity. Explore the five areas of our leafy park where 1,500 animals representing 100 species roam freely.
Looking to do something really different?
Stay with us and be a part of the animal kingdom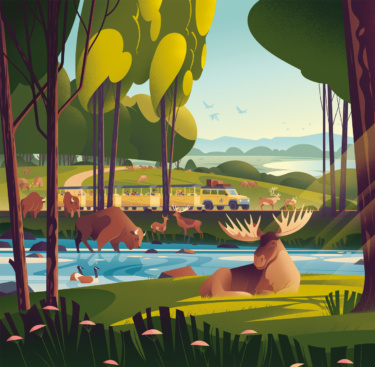 Wildlife expedition in a safari train
Hop on the safari train on an hour-long expedition to observe the animals of Europe. All aboard! This 3-kilometre-long trip takes you to the heart of the park where you will encounter the very best that nature has to offer. The expedition will give you an insider's view of the elk's and reindeer's habitat and the vast nature reserve shared by the Przewalski's horses and European bison.
EXPÉRIENCE ACTIVITIES
Close to nature
Discover the different species of this universe
Surrounded by wildlife
Stay over with your new friends. Relax in one of our well-appointed eco lodges. You'll have the time of your life !
Looking for a restaurant ?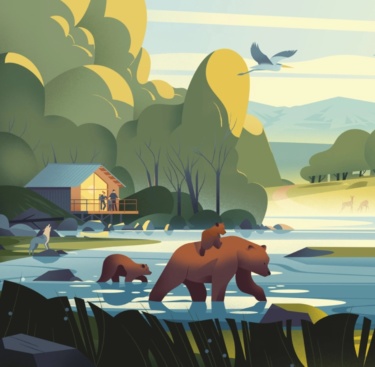 Protecting wildlife and biodiversity
At Sainte-Croix, we are committed to the conservation and protection of the environment.
Environnement

Since we founded the reserve in 1980, Sainte-Croix has been committed to protecting our planet. Our awareness-raising campaigns for staff and visitors have helped establish our role as leaders in nature protection instruction.

Find out more

Conservation

More than 50 animals have been released into their natural habitats since the reserve opened.

Find out more

Reintroduction

Captive-bred animals may be released into the wild to help increase populations of endangered species.

Find out more