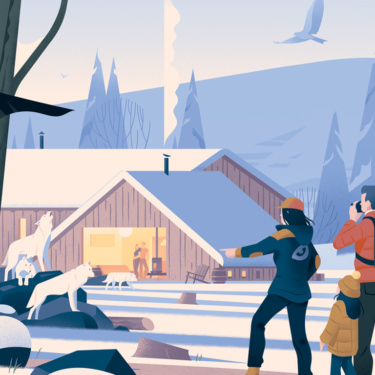 Winter stays
56 lodges nestled in secluded areas of the 120-hectare wildlife conservation area. Take a break and connect with the simple pleasures of the great outdoors.
What does your stay include ?
A night in a lodge
Take a break and connect with the simple pleasures of the great outdoors. Make some unforgettable memories.
Admission to the park for 2 days
Admission to the park on two consecutive days. Enjoy observing the animals.
Full-board catering
Enjoy dinner (excluding drinks), breakfast and lunch during your stay!
A unique experience
Take advantage of 2 exclusive winter experiences!
Privileged access to the Park
When you book your stay during the winter season, you'll enjoy exclusive access to the animal park. Imagine walking through the trails, with only the Park's animals for companions. This privileged experience will allow you to observe up close our different wolf packs, reindeer, foxes, red pandas… Enjoy your dinner served directly in your lodge and let yourself be carried away by the beauty of nature.
Exclusive winter activities
During your winter stay, you'll have the chance to enjoy exclusive activities that will give you an unforgettable experience up close to the animals. Take part in the feeding of certain species to learn more about them and their eating habits.
Join us for a special event dedicated to one of Sainte-Croix's most emblematic animals: the wolf! Come and meet some of the wolf packs and find out more about the life and behaviour of wolves and the importance of preserving them in our ecosystem. You'll also have the chance to chat with our animal handlers, who will share some fascinating information about our animals.
For photography enthusiasts, we also organise exclusive wildlife photography sessions. You'll be able to capture extraordinary images of our animals in their winter environment.
During this incredible season, you can observe and witness some unique natural events: the nuptial plumage of white pelicans, the mating season of wolves, the fall of antlers of deer… Enough to amaze young and old alike, in a beautiful winter atmosphere.
Wolves are particularly active in winter, and their thick, dense fur protects them from the cold. The wolverine, with its sturdy legs and sharp claws, moves with ease through the deep snow. The polar fox blends into the landscape thanks to its white coat. These small predators are fascinating animals to observe! Reindeer are perfectly adapted to winter and go in search of lichens in their territory. Lynx move silently, their large paws insulating them from the cold and enabling them to glide over frozen surfaces.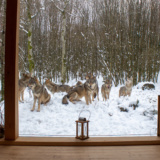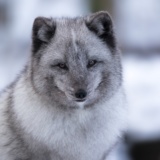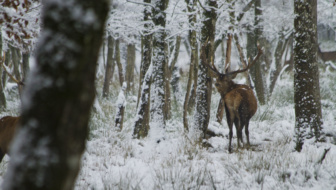 Deer lodges
Stay in a lodge that combines the charm of wood and canvas. Faced with the immensity of the deer plain, our comfortable lodges and their spectacular views will fill you with inspiration.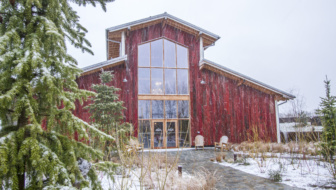 The Coyote barn
Our exceptional hotel is located opposite the coyotes, black bears and raccoons. All rooms have views of the animals. The private garden and fire pit are perfect for atmospheric starlit evenings, even in winter !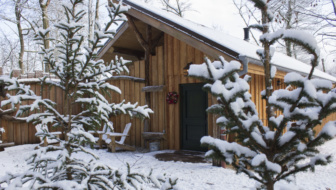 Wolves lodges
Feel like you're among the wolves, yet warm and snug in your lodge. More than a place to sleep, this is a truly personal experience. As darkness falls, the bewitching howls of the powerful wolf pack will stay with you forever.